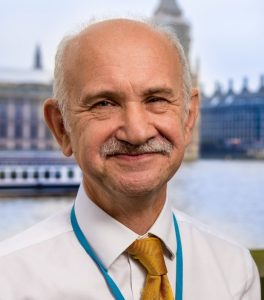 Training in valve disease
Experience over more than 20 years running valve clinics, giving inpatient opinions and research into valve disease before setting up specialist valve services. Specialist competencies in auscultation from Aubrey Leatham.
Specialist valve activity
Consultant in charge of a large valve specialist clinic seeing 200 new and 1000 follow-up patients each year. There are devolved physiologist and nurse-led components including a murmur clinic'.
Patients seen
Moderate and severe native valve disease, post-endocarditis and post intervention, Mitral prolapse and bicuspid aortic valves, aortic pathology
Patients not seen
Mild valve disease
Process
Weekly valve MDT and links to TAVI, mitral, aortic and ACHD MDT. Links with all cardiac services. One-stop echo and treadmill exercise testing available. Magnetic resonance, CT and stress and transoesophageal echocardiography need to be booked. Patient information leaflets available.
Past member of Endocarditis MDT
Founding president of the British Heart Valve Society and active in ESC heart valve council and international committees setting standards for the clinical management or imaging of native and prosthetic heart valve.
Before retirement offered inpatient specialist valve consultations
Reviewer on valve disease for Heart, Journal of the American College of Cardiology, JACC CVI, European Heart Journal and EHJ-CVI

CPD
Attendance at annual BHVS and EuroValve meetings

Research
MD in methods of detecting early failure in prosthetic heart valves. Subsequently organised RCTs of different designs of prosthetic valve and researched methods of improving the timing of surgery in aortic stenosis. More recently has researched better methods of service delivery.
Has published 8 books on echocardiography and medicine and 400 articles on valve disease and cardiac imaging.
Valve societies
Council of the British Heart Valve Society and Valve Disease council of the ESC