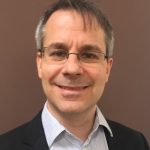 Council Position: Secretary
Dr Dominik Schlosshan is a Consultant Cardiologist in cardiac imaging at the Yorkshire Heart Centre in Leeds. He is clinical lead for cardiac imaging and one of the largest valve clinics in the UK. He is imaging lead for the trans-catheter valve program in Leeds. Leeds has one of the largest TAVI programs in the UK. Clinical and research interest include mitral, aortic valve disease and novel trans-catheter valve interventions. He is a co-investigator in trials looking at new trans-catheter technologies to treat mitral and tricuspid regurgitation. He is currently the Secretary of the British Heart Valve Society.
Dr Schlosshan completed his undergraduate training in Mainz, Germany. His Cardiology training was undertaken in West Yorkshire and an international fellowship in Sydney, Australia. He was awarded a MD at the University of Leeds.