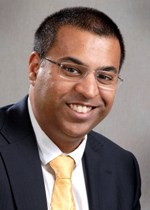 Council Position – Past President
Dr Benoy Shah is a consultant cardiologist at University Hospital Southampton. His subspecialist areas of interest are cardiovascular imaging (specifically echocardiography) and valvular heart disease. He established the Wessex Heart Valve Clinic in 2018 in Southampton General Hospital, a multidisciplinary service including physiologists, nurse specialists and cardiologists that sees patients both before and after heart valve surgery. He is a Fellow of the Royal College of Physicians and a Fellow of the European Society of Cardiology.
He graduated from Imperial College School of Medicine in 2002 with honours in Surgery and First-Class Honours in his intercalated BSc degree in Cardiovascular Medicine (1999). His junior doctor training posts were in Jersey, London, Oxford and across the Wessex region. He returned to Imperial College London to undertake a higher research degree (MD) between 2011-2013. He maintains a keen interest in research alongside his clinical role. He has published almost 70 peer-reviewed papers and co-authored 3 textbook chapters.
He has a long-standing interest in heart valve disease, having first joined BHVS Council in 2012. He was the Society's Program Committee Chair from 2016-2019 and was the 4th President of the BHVS between 2019-2022.