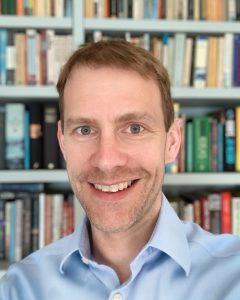 Council Position: Treasurer
Andrew Marshall is a Consultant Cardiologist at East Sussex Healthcare Trust. His subspecialty interests are in cardiac imaging, heart valve disease and heart failure. He leads a busy and well-established multidisciplinary Heart Valve service which includes physiologist- and nurse-led valve clinics, and has developed a comprehensive program for the assessment of patients with asymptomatic severe valve disease utilising a combination of biomarkers and imaging with cardiopulmonary stress echocardiography to optimise timing of valve intervention.
Dr Marshall graduated from Downing College, Cambridge and then undertook clinical training at Cambridge University Medical School, qualifying in 2000. His cardiology specialist training was based in the North West London region, including a research post at the Royal Brompton and Harefield hospital which culminated in the award of a Medical Doctorate (MD) from the University of Cambridge. He undertook a subspecialty training fellowship in advanced cardiac imaging at Harefield Hospital. He has accreditation in both Cardiology and General Internal Medicine and is a Fellow of the Royal College of Physicians.
Dr Marshall's main professional and research interests include the use of multi-modality cardiac imaging in patients with ischaemic heart disease (IHD), valvular heart disease, cardiomyopathy and heart failure. He has published research papers on the prognostic value of exercise capacity in IHD, exercise echocardiography in heart valve disease, and the role of echocardiography and radionuclide (nuclear) imaging in heart failure patients undergoing implantable device therapy.